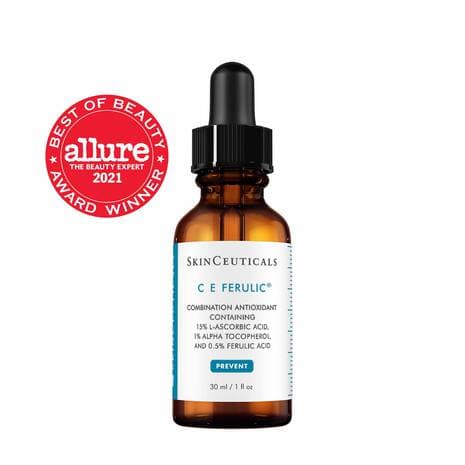 Anti-wrinkle Vitamin C Serum
A patented daytime vitamin C serum that provides superior environmental protection, improves the appearance of fine lines and wrinkles, and brightens skin.
SKIN TYPES: Normal, Dry, Combination, Sensitive
SKIN CONCERN: Dehydrated, Sensitized, Discoloration, Aging
FEATURES:
This product combines 15% pure vitamin C (L-ascorbic acid) with 1% vitamin E (alpha tocopherol) and 0.5% ferulic acid to protect against damage caused by free radicals, which can contribute to atmospheric aging. With C E Ferulic, you can reduce oxidative damage caused by ozone pollution, UVA/UVB rays, and exhaust from diesel engines by up to 41%. As well as antioxidant protection, C E Ferulic reduces the appearance of aging and photodamage, lines and wrinkles, and loss of firmness, and brightens skin's appearance.
KEY INGREDIENTS
● 15% L-ascorbic acid
● 1% alpha tocopherol
● 0.5% ferulic acid