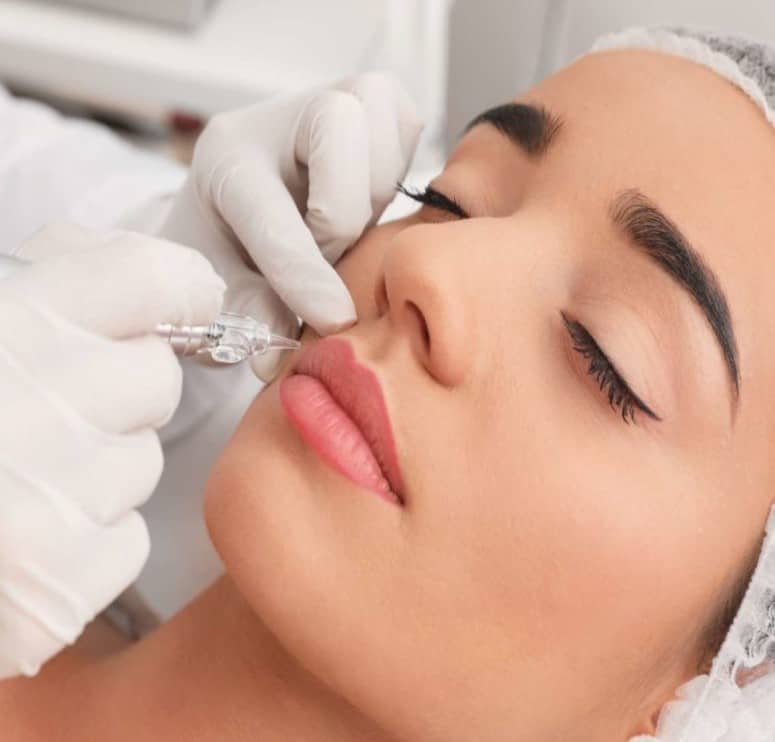 Permanent makeup is a cosmetic tattoo or intradermal pigmentation or micropigmentation. Permanent makeup is done with a fine pen comprising iron oxide colors or pigments. These pigments are tattooed on your skin to mimic the look of makeup.
Permanent makeup tattoos imitate eyeliner or lipstick, bring the look of thicker and darker eyebrows to your face, camouflage scars, cover blemishes, vitiligo, enhance facial features, and even camouflage an uneven hairline.
Colored pigments are needled into the dermal layer of your skin using a very fine probe. The technique is somewhat like tattooing artwork on your arms, but it is done with more delicate needles and does not cause severe discomfort. Permanent makeup pigments are made of the best ingredients and contain inert organic and inorganic compounds that are hypo-allergenic, and the colors of semi-permanent may last a few years. Touch-up treatments are recommended.
Virtually any color can be mixed to complement or match your natural skin tones. Professionals at PBK Med Spa work with you,  discuss your preferences, make suggestions, custom blend, and shape your permanent makeup always to look its best. The professionals at PBK Medspa never do permanent makeup that is too trendy. Instead, our professionals use blended colors to flatter your skin tone, hair color, and eyes. We want to give you a natural appearance.
Permanent makeup is perfect for women in all stages of life who do not have the time to make sure their makeup is perfect every day. Also, if you have allergies to off-the-shelf makeup, you will love permanent makeup!
Permanent makeup is a lifesaver if you don't want to take time applying and reapplying your makeup during the day.  Some of our patients are over 60, and age is not a factor when using permanent makeup, and the benefits are universal. In addition, permanent makeup is safe when done by a reputable professional or certified aesthetician.
You can also use semi-permanent makeup and techniques to help make scars after surgeries less noticeable.
The risks of permanent makeup could include minor and temporary swelling, tenderness, and bruising. Side effects are usually short term but watch for any allergic reactions. Short-term side effects only last a few days.  Call for a consultation.
Pigment removal is a non-invasive procedure that can be used to remove many types of pigmentation.
Non-invasive laser technology is used to eliminate melanin (pigments) from the cells with laser pigmentation removal. The laser machine generates a high-energy beam of light, which is then converted to thermal energy.
If you have some dark spots or uneven skin tone that irritates you, you might be a candidate for hyperpigmentation correction.
The number of applications will be determined by the severity of the pigmentation, the kind of pigment being handled, and how deep it is.
Depending on the individual's lifestyle, environment, hormones, and continued level of sun protection, pigmentation may reappear.
The degree of discomfort will vary from person to person, depending on the depth of the pigmentation, the area on the body where it is located, and the sort of pigment being removed.
Patients generally experience redness, mild swelling, and/or tenderness in the treatment region following therapy, which will disappear in a few days.
You can schedule your appointment by contacting us or simply filling out our online form with your name, contact number, and email address, and we will sure to get back to you as quickly as possible.
OR You can text us to below number.